Mission Statement
The K.M.C. Cycling Club is a diverse group of people from across the Kaiserslautern Military Community (KMC) brought together by a common interest in cycling and cycling advocacy. Whether through racing, group rides, community involvement or social events centered on cycling, K.M.C. Cycling's primary purpose is to further the sport of cycling in the KMC, and provide a valuable cycling outlet to its members. We are a not-for-profit organization that values diversity, friendship and, above all, a good ride.
January 2020
| Sun | Mon | Tue | Wed | Thu | Fri | Sat |
| --- | --- | --- | --- | --- | --- | --- |
| | | | 1 | 2 | 3 | 4 |
| 5 | 6 | 7 | 8 | 9 | 10 | 11 |
| 12 | 13 | 14 | 15 | 16 | 17 | 18 |
| 19 | 20 | 21 | 22 | 23 | 24 | 25 |
| 26 | 27 | 28 | 29 | 30 | 31 | |
Calendar

Like Us

Up for sale is my raleigh. It's been a good frame but I've moved on to a Misfit Psycles Dissent AL for my rigid singlespeed.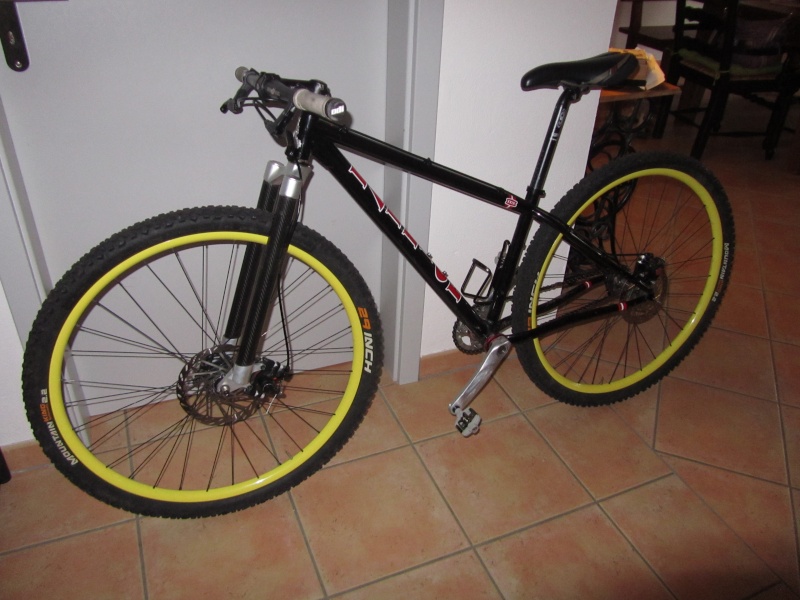 Here's the Build info:
Frame: Raleigh XXIXG Steel Frame 29er. It's actually a geared frame but with a special bottom bracket (see below). Frame year is 2009.
Fork: On One Carbon rigid fork steerer cut to about 6 inches (for small frame).
Wheels: Velocity bBlunt Rims laced to XT Hubs (rear rim has a small dent in it, but this doesn't effect performance at all.
Tires: Conti MTN King 2.2 metal bead (not folding)
Handlebar: Raceface flat bar
Stem: Truvativ XR 90mm
Grips:white ODI (in pretty rough shape)
Headset: mixture of parts from cane creek and something else... pretty basic, but it works (pretty well roughed up and scuffed/marked on the outside)
Saddle: Bontrager saddle... lower end as bontragers go, but not a walmart-bike saddle
Seatpost: Easton XC Aluminum seatpost
Crankset: Shimano XT sanded down to the bare aluminum
Bottom Bracket: Trikstuff Exzentriker--Eccentric Bottom Bracket retrofited to standard BB shell. It has a lot of scuff marks and I sanded one of the edges down to clear the chainstays on another bike I had it on. The set-bolts are also pretty roughed up and should be replaced soon (probably about 2 or three more adjustments left in them) Also the bearings are not in their original configuration. I used the plastic spacer from an shimano bottom bracket when the original spacers got too torn up. If you have to change the cranks out, you'll probably want to replace the bearing spacers as well.
Brakes: Avid BB 5s with Avid Levers.
Will be sold WITHOUT pedals.
All in all its a good bike. Some really good parts (frame, fork) and some more basic parts. It's not a fly weight racer by any means, but it's not TOO portly for steel frame 29er. The wheelset is one that's known to be heavy, but indestructible (weighs about 2300 grams). The frame is a great frame for being on the more affordable side, and its weight (5.5 pounds) is on the heavy end but is not unreasonable for a steel frame.
I've ridden this frame (and another raleigh XXIX just like it) for about 3 years now and love it, but I've found the Misfit Dissent to have better standover, and a better geometry for someone on the shy side of 5'7"
I'm asking $380. Considering the on-one carbon fork is worth about 175-200 alone, and the wheelset, when new, is about 250, and the exzentriker bottom bracket (which is quite marked up, but still fully functional) runs 150 euros, I think it's a fair price, but I'm willing to work with someone if you're really interested.
I'd also consider trade or some combination there-of.
I've got a Trek 69er full suspension frame I'd like to build up. I have the frame, the rear wheel, the seatpost and the saddle, but need pretty much everything else for the build (29er OR 26er front end... gonna see what ends up in my hands and take it from there). Parts for this build would be considered for trade.
Also, I'm looking for a lightweight 29er wheelset. Something around 1500-1700 Grams or lighter. Easton XC, Black Flags etc. Actually, if you have something like this, I could even switch out the Veloctiy Blunts on this bike for a set of WTB SS wheels that are still not featherweight, but are lighter than these at about 2000 grams.
Finally I am half-heartedly in the market for a geared road bike...
Last edited by Jonesy on Mon Aug 22, 2011 9:13 am; edited 1 time in total

Jonesy

Officer





Posts

: 1007


Join date

: 2010-11-18



OK, guess I was asking too much... Anyone interested at $300?

Anyone wanna make an offer?

Jonesy

Officer





Posts

: 1007


Join date

: 2010-11-18



I am interested. However, I live in H-berg and will need to figure out how to get there to look at it.
Are you doing the 18:00 ride tonight? I might be able to be there at the end of the ride.
Eric @
skitkae@hotmail.com

PB Matrix




Posts

: 215


Join date

: 2011-06-13



I won't be at the ride tonight... but I might be convinced to meet you in mannheim if you're quite serious about it... I kind of need to go to Ikea, and I might swing by stadler in Mannheim.

Jonesy

Officer





Posts

: 1007


Join date

: 2010-11-18



How about meeting at Stadler at 19:00ish?

I will PM you in a few seconds, reply with your cell phone number and I will send you a text message.

Then, I will contact you and call you if I am late or otherwise delayed.

Are you interested in a WTB (cheap rims) 29er Wheelset with rainbow rotor hubs or a TN719 Rim, 20mm Shimano 6-bolt hub front wheel? I belive the spokes are straight gauge 14 as well...



Eric

PB Matrix




Posts

: 215


Join date

: 2011-06-13



Sorry, meant to clarify, meet in Mannheim sometime this weekend... probably saturday afternoon or so... I'll call you though, I got your PM.

Jonesy

Officer





Posts

: 1007


Join date

: 2010-11-18



I am not winning the N + 1 argument with my wife. I will do this battle later when I have enough time to justifiy an S-Works Epic 29er

PB Matrix




Posts

: 215


Join date

: 2011-06-13



Did you end up selling the bike? If not. I'm very interested.
cllulei wrote:Did you end up selling the bike? If not. I'm very interested.
Nope, Eric got the spousal beat-down on this deal.. it's still available. Not to call you out, Eric, it happens to the best of us

Anyway, PM me and we can talk more.

Jonesy

Officer





Posts

: 1007


Join date

: 2010-11-18




---
Permissions in this forum:
You
cannot
reply to topics in this forum