Mission Statement
The K.M.C. Cycling Club is a diverse group of people from across the Kaiserslautern Military Community (KMC) brought together by a common interest in cycling and cycling advocacy. Whether through racing, group rides, community involvement or social events centered on cycling, K.M.C. Cycling's primary purpose is to further the sport of cycling in the KMC, and provide a valuable cycling outlet to its members. We are a not-for-profit organization that values diversity, friendship and, above all, a good ride.
June 2021
| Sun | Mon | Tue | Wed | Thu | Fri | Sat |
| --- | --- | --- | --- | --- | --- | --- |
| | | 1 | 2 | 3 | 4 | 5 |
| 6 | 7 | 8 | 9 | 10 | 11 | 12 |
| 13 | 14 | 15 | 16 | 17 | 18 | 19 |
| 20 | 21 | 22 | 23 | 24 | 25 | 26 |
| 27 | 28 | 29 | 30 | | | |
Calendar
Like Us
I will be selling my strusty steel 29er frame when my new frame arrives from Misfit Psycles. I wanted to try out the Vassago Jaberwocky, but couldn't pass up ont he deal being offered on last years Dissent AL ($315 shipped!).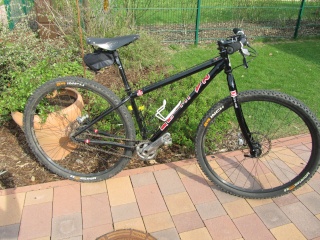 The frame I am selling is the frame and fork only. It is size small, and though it is set up here as a singlespeed, it is actually a geared frame. The aftermarket EBB will NOT go with this frame. Also I am not sure that I have a derailer hanger, so that is something you'd have to order.... if you wanted instead to try it out single speed, I DO have a tensioner I would let go with the frame.
The frame: 2009 Raliegh XXIX + G chromoly 29er frame, 15 inches. Not exactly a light weight at 5.5 punds, but a solid frame, and nice black red and white color scheme.
The fork: Soul Cycles chromoly rigid fork, disc only.
What you get: the frame and the fork, and if you want, a tensioner (no headset etc.).
Condition: it has numerous normal wear and tear scratches... no major damage, no particularly noticeable scratches dents etc. It's a solid frame, and I'm selling it because I am now running it with a suyspension fork (I've gone to rigid on my 1X9) and find that the standover is just a wee bit close to the boys for my comfort, so I am trying a Dissent witch has a dipped down top tube for greater standover clearance.
The frame will not be available until the dissent comes in, and I get a chance to build it up ... unless someone REALLY wants it, then I can maybe take it apart before my trip to the states and HOPE that the dissent is waiting for me when I return.
Anyway, PM me of you are interested. I do have it currently built up as a signelspeed with a fox fork, which makes the standover about an inch higher than the rigid fork, and also changes the geometry and feel just a bit... The longer crown to axle of the foz suspension fork gives it a more slack feel, also part of why I am selling it. It's a great frame, but probably better run as a rigid.
I am asking $200. The frame itself usually goes on ebay in this condition for around $200 and the fork was purchased less than six months ago. All in all its a good frameset.
I'll also consider barter/trade or some combination of trade and cash. Below are the items I am interested in (in order of priority):
-Lightweight XC 29er disc wheelset (Something along the lines of the XC one or sunringle black flag pro)
-road bars and stem combo--high quality but sturdy for cyclocross use
-road brake-lever/hood combos (no gears/shifters needed, but if you have a geared set, I could probably just use them, and not install the gear cable right?)
-rear shock (6.5 inches w/ 1.5 inches of actuall travel)
-decent travel 26er suspension fork
-rugged XC 26er front wheel
-9-speed rear mtb derailer
-Shifter for said derailer
-9-speed cassette for said derailer and shifter

Jonesy

Officer





Posts

: 1007


Join date

: 2010-11-18



---
Permissions in this forum:
You
cannot
reply to topics in this forum