Mission Statement
The K.M.C. Cycling Club is a diverse group of people from across the Kaiserslautern Military Community (KMC) brought together by a common interest in cycling and cycling advocacy. Whether through racing, group rides, community involvement or social events centered on cycling, K.M.C. Cycling's primary purpose is to further the sport of cycling in the KMC, and provide a valuable cycling outlet to its members. We are a not-for-profit organization that values diversity, friendship and, above all, a good ride.
October 2021
| Sun | Mon | Tue | Wed | Thu | Fri | Sat |
| --- | --- | --- | --- | --- | --- | --- |
| | | | | | 1 | 2 |
| 3 | 4 | 5 | 6 | 7 | 8 | 9 |
| 10 | 11 | 12 | 13 | 14 | 15 | 16 |
| 17 | 18 | 19 | 20 | 21 | 22 | 23 |
| 24 | 25 | 26 | 27 | 28 | 29 | 30 |
| 31 | | | | | | |
Calendar
Like Us
Hello everyone,

Odd Job here, been living in Hochspeyer since 2001 and been riding mountain bikes since 1989. For me riding is just a normal lifestyle, I am more into Bike-packing & Expedition riding than anything else, but I do ride daily about 45 kilometers to take my son to school or do the shopping. He  is the only one in my family interested in riding. The wife thinks anything beyond 30K is just nutz and she is not even packing, just pure Hollywood.

Any way, a  little more about me. I am a bit of a Clyde, pack a ton of weight and love to make long runs. Kind of makes it hard to find riding partners since most are not into expedition riding or those that would like to try it never have the time or are not financially stable to just up an leave.

My rig is nothing to turn head, old GF Paragon I have broken everything but the frame at least a dozen times, pack racks front & back with a standard single wheel YAK style trailer. I am sure you have seen me many times through out the school year riding to from Hochspeyer to Kaiserslautern in the mornings & afternoons, its a full black rig dressed with black bags.

Normally I always have a small fishing set up with me just in case I see something that looks good for todays menu, and I also pack my metal detector(s) too because people just love to leave behind all kind of valuable stuff they want me to have.

I am 34 years old, and retired but sometimes taking the occasional odd-job to an austere location doing something that requires skilled stupidity. I am always readying for any expedition leaving Germany, so if you want to ride PM me or just pull over when you see me. If you need trip advice I can provide routes as well, plus intel on local sh*t birds and places to avoid, biker friendly camp sites, farms (for overnight stays), and cheap Gucci sellers.

Also for all you active Ladies & Gents, if your getting out and will be making a VA claim you can contact me. I am %100 SC from the VA for multiple injuries and have been dealing with them for years now.

See you around,

Odd Job




Posts

: 11


Join date

: 2013-08-29



Welcome!

Wow, I've got all sorts of questions for you. Maybe you could join us for an F-trail ride sometime and I could pick your brain about "the rules" of ninja-camping. Last spring, we kicked around the idea of a multiday Pfälzerwald tour, maybe we can revive that idea.

Well, keep an eye on the forum, and if you see a ride that suits you then join us!
_________________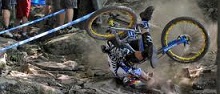 eurotrash

Officer





Posts

: 786


Join date

: 2010-11-28


Age

: 45


Location

: Granny Gear (ಠ益ಠ)



My God I hope that is not you in the picture, if so I am glad to see you can feel your hands well enough to type again because that looks beyond bad.

In regards to a ride, sure anytime if I can bring my son along too. He is only 10 but he can keep up, crash good and keep pushing. Had him doing his first 40K when he was 3, not because I was pushing him, we just lost track of time.

As for camping, I may be able to add some ideas if you like.

I will keep my eyes open on the forum for up coming rides, but also if it is cool I would like to post some expeditions I will be going on and meeting up with other riders from around Europe. For example this winter once it snows nice and hard a few of us are pushing down to Italy and then doing a three day turn around (got about 28 riders for this one), and next spring we have one going from Belgium, France, Spain and the Northern Portugal (got about 60 riders for this one).

For me it would be awesome to find some fellow riders in this area for expeditions, life is just to short to see from anything other than two wheels.




Odd Job




Posts

: 11


Join date

: 2013-08-29



Welcome to KMC Cycling!!! I'm glad you made it on to the site but I'm not sure I can handle the level of pain your dishing out...your logging some serious miles...

Zenkem




Posts

: 1818


Join date

: 2010-11-20


Age

: 54


Location

: Hermersberg



Thank you for the warm welcome Zenkem.

If you ever want to give it a shot let me know, I have a fast run from Kaiserslautern to Bettembourg in Luxembourg. Even keeping it slow with full weighted front & rear packs with my trailer and my ten year old son we can pull this in 11 hours.

It is a beautiful ride considering how short the distance is. Lux is always a good place to meet up with new expeditions.

Kind Regards,

Odd Job




Posts

: 11


Join date

: 2013-08-29



So I am looking at a couple of frames to build up and thinking of doing a fixed gear long-distance touring bike... yeah I'm pretty stupid...

SO I might be interested in joining in on some of this fun!

Jonesy

Officer





Posts

: 1007


Join date

: 2010-11-18



Jonesy,

Not stupid or crazy, expedition riders all have their reasons we all have a few things in common and one of those is to just push your self more.

Well now this is going to be a long post, but I will explain the best I can in the limited space I have. First you need to know a few things when setting up your rig if your building from the frame.

What kind of weight will you be hauling? I come in with a total riding weight of 470 pounds. That weight rarely fluctuates per trip, I only have two trips I make a few times a year where that weight is increased to 520 pounds or decreased to only 300 pounds.

I say know what you are hauling because just riding alone is fun but there are some many more things you can enjoy whilst on that trip. Most my trips I am looking to see how I can live off the land (fishing pole, net) and how I can make money (gold pan set up, metal detector, snorkel set up). Last year in Italy I recovered right at around 400 grams in gold just metal detecting on the beach.

You have outdoor hobbies that make money then take them with you!

Next, What kind of terrain do you want to ride? Hardball, tank trail, game trails, blow sand or dunes, water crossings, mountains, or extreme snow conditions. Best to stay versatile to take a moderate hit from all but still have the gear to adjust.

We have a ride every winter we take through southern Germany, straight over Switzerland and down the eastern side of Italy to the south. This so far is the most austere conditions I have done in first world countries, and we all have to make some serious adjustments to our rigs through out the trip, especially in Switzerland. In the Alps they have like a forestry rescue service who will save you if they feel you and your rig is not up to pare in completing the trip, not cool.

Next, Can you handle any mental stress that you will create? You do not want to put your self or anyone else in a situation that is hard to get out. Three years ago I was doing my normal run through Luxembourg and a young man thought it would be a good idea to pull a gun on me. Everything was caught on my helmet cam, bar cam and the ATM machine cam. But I still spent three days in jail, my rig was "to heavy" to be pushed two blocks away so it was impounded.

Next, How do you want to live whilst in the bush? Me I pack the house, dose not mean I unpack it every time I stop but when I get to a nice spot I want to spend some time at then I want to live in comfort, or if I find a spot that helps me make money then I am staying until I have exhausted all resources locally. When money is involved, like metal detecting on a touring beach where everyone gets drunk and leaves me their jewelry, my trip can go from four days to two weeks.

Nearly every city has a camp site you can stay at, but why waste 6 bucks a day if you do not have to, there are farms that are cheaper, beaches that are free and of course the bush. So I take everything I want for all those conditions. You also need to consider local wild life and insects, Germany is an easy one to deal with but get around the Adriatic Sea on those countries with the idea of German country side conditions and the bugs will eat you alive, even if you are not the type who gets bit.

Next, Know your body. If you have any medical conditions then pack & compensate for this if you decide to go. Things like weight loss is not that bad in moderation but can turn into an issue very fast if you are not careful. If you are new to it then start small if you are going alone, nothing more than 100 kilometers a day. If your new and you are going with people then communicate about your concerns, they will not think ill of you for this, it gives them something to think on if you need to be stabilized before emergency services arrive and something to report to them. You would be shocked to see the stuff other riders take with them that could help you, your trip or your rig. Most expedition riders I know in Europe are former Special Forces, US & Coalition. Like me raised in some back woods area growing up off the land using the bush as their play ground. So there is always someone who has what it takes to help you or there is a plant, fungi or mud in the bush that will help with the proper guidance. Communication will keep the trip fun.

Next, more often than not if the ride is not austere then that beautiful scenery fades away and things get boring fast. I use audio books, I have hundreds of gig's of AB's and before you know it 15 hours of riding went by, you are further ahead than planned and it is bed time. Just saying, it can get boring and when boredom sets in people can loose interest or start doing things that are not so smart.

Last thing I can offer in this limited space, Insurance. Insure the hell out of your rig. Theft, damage, just everything you can get. If all goes south your new hobby will be over fast, and to replace everything within a couple months time and rebuild could run you 15-20K (based on what most of us ride with). I watched one of my friends rigs pass me last year near Paris, but he was not on it. I just let him go because this thug was no rider and a massive hill was only a couple hundred meters away. But he tried. When my friend found out the thug did not get far he was actually disappointed, we only laughed because he thought he was going to get a fat check so he could buy his dream rig. LOL

So with this space that is about it, I can offer much more per email or in person. Feel free to pick my brain any time.

Odd Job




Posts

: 11


Join date

: 2013-08-29



---
Permissions in this forum:
You
cannot
reply to topics in this forum