Mission Statement
The K.M.C. Cycling Club is a diverse group of people from across the Kaiserslautern Military Community (KMC) brought together by a common interest in cycling and cycling advocacy. Whether through racing, group rides, community involvement or social events centered on cycling, K.M.C. Cycling's primary purpose is to further the sport of cycling in the KMC, and provide a valuable cycling outlet to its members. We are a not-for-profit organization that values diversity, friendship and, above all, a good ride.
May 2019
| Sun | Mon | Tue | Wed | Thu | Fri | Sat |
| --- | --- | --- | --- | --- | --- | --- |
| | | | 1 | 2 | 3 | 4 |
| 5 | 6 | 7 | 8 | 9 | 10 | 11 |
| 12 | 13 | 14 | 15 | 16 | 17 | 18 |
| 19 | 20 | 21 | 22 | 23 | 24 | 25 |
| 26 | 27 | 28 | 29 | 30 | 31 | |
Calendar

Like Us

Snow tires DIY (inspired by advice from Mike Larson):
OK, so here's a rough run-down of how I made a set of snow/ice spike tires that seem to be working quite well on the trails in this lovely weather we are having.
Supplies:
-old set of tires (recommend non-folding, because they hold their own shape and seem much easier to work with, I couldn't imagine having a 29er tire flopping all about with metal spikes on it, while I am trying to work with it)
-Sheet metal screws I used half-inch self tapping sheet metal screws. However aggressive you want the spike pattern to be will determine how many you need (or, perhaps however many you have on hand will determine your spike pattern) I think I probably ended up using 150-200. Also, the one sI used had a rounded head. I suspect this is better than a flat head with sharp edges.
-some old tubes rated for at least 2 inches wide (2 tubes of the same size as you are actually using, and one extra tube that can be a size smaller in diameter but same width) They need to be wide enough to completely cover the screw heads and leave a good bit of coverage to account for shifting, expansion etc.
-A drill
-Lots of patience
Steps:
-First look at your tread pattern and figure out how you want to use the spikes. I used an even pattern focused on the center of the tread for the rear and a more spread out pattern with some bite on the sides for the front. This is just based on my own intuition having observed the usual tread wear patterns on my MTB it seems the rear tire uses more of its grab in the center, and the front uses more on the sides.
-Determine exactly where you will put the spikes. Put them into knobs, NOT in the space between, so they have something to support them. Remember, that whenever you ride asphalt, or concrete or any other non -giving surface, all your riding weight will be on the spikes, which is a lot of weight to support.
-Drill holes with a very small bit. These holes are merely starter holes for the screws, and also serve to mark and guide the screw positions since you will be screwing them from the inside out, and won't be able to see exactly where they are in relation to the treads
-Once you have all of your holes drilled, turn the tire inside out. This will make the screwing much easier (THAT'S WHAT SHE SAID!!!--sorry, I digress).
-with the tire inside out, push the screws in just enough to hold them, then screw them the rest of the way in until they are snug. Don't try to get them SUPEr tight, you'll probably just strip away any grab they DO have. My technique was to push them all in as far as I could by hand, across large sections of the tire, then take an electric screwdriver and screw them the rest of the way in. I did it in basically three or four phases. This kind of broke up the tedium of screwing in several hundred screws... which WAS pretty darn tedious
-Once you are done, turn the tire right side out again.
OKAY, at this point you have the spike equiped tire. Now you need to line it before putting in your tubes and installing on the rim.
The technique I used was to double up old inner tubes because I put them on a 29er, and you need a larger tube as a liner (more later) IF you are using a 26er tire, you might be able to use a 29er tube as your liner, in which case, use it as a one-piece liner.
Liners:
-Take the old tubes, cut off the valve stem, and split the the tube down the middle, being careful that you keep it as straight a split as possible. Now cut it so you have a 'length' of inner tube, not a loop (hope I am explaining this clearly, sorry I didn't take photos of the process). What this should leave you with is two strips of inner tube at 29 inches (or so) and one strip of a smaller size (can also be29er tube.... this strip will be used to provide gap coverage... see below)
-Lay the tire on a horizontal surface and put your working tube (NOT the liner you just made) in it as if you are ready to install it on the rim and inflate until it start to balloon up a little. What you want is enough pressure so they are pushing against the inside of the tire, but not so much that it starts to distort.
-Now, take the full sized liner strip and work it under the partially inflated tube. Make sure you get it flat against the inside of the tire between the screw heads. Basically treat it like a rim strip that you are putting between the tube and the tire instead of between the rim and the tube.
-You will notice that the strip doesn't cover the whole length. There is probably about four or five inches of circumference un-lined. Now, take the 'extra' liner strp and cut off a length to make up the difference, with a couple of inches of overlap (since there is likely to be a little expansion and possibly some shifting when you mount the tire).
Now you have your lined spike tire with tube installed, ready to mount.
I mounted first one side of the tire, then double checked to make sure the liner was still properly situated, covering all of the screw heads. Finish mounting the tires per your normal procedure, then inflate to your preferred pressure. Viola… spike tires!
These tires work GREAT on icy and packed snow conditions. All those footprints and other traffic on the trails that usually send me careening left and right on standard MTB tires when I try to ride in these conditions… They were no problem at all for these spike tires. It was really like riding on dry dirt. On sheer ice I tried slamming on my brakes to see if I could skid… No dice! I almost OTBed!
They don't really seem to be any better in the thick virgin snowfall than regular MTB tires, except that those little hidden things under the snow don't slip you up as much any more. I put them on my single speed, and riding through the thick virgin snowfall is nearly impossible with this wet snow… it just drags TOO much for single speed. My geared bike, however doesn't have enough clearance for the rear tire's spikes.
I did try a different liner at first, I used 100 mile an hour tape. This caused the front tire to flat out after about 2 hours of riding, or at least I presume that's why the front flatted out. After that I used the liner as described above. The rear still seems to be going strong, so maybe the 100 mile an hour tape liner is good enough, but I'm sure the old-tube technique is better, and the front had no problem yesterday for a solid two hours of riding.
On the road or sidewalk, they make a horrendous noise, and you can feel the fact that all the weight is directly on the spikes. I imagine this is probably not good for sustained periods, as the screw heads are probably pushing hard against the liner.
I got in about two good hours of trail riding yesterday thanks to these tires, I had one notable fall, and several 'dabs.' So… pretty much a normal ride.
These tires DO grab and that means there is a LOT of rolling resistance, and they are HEAVY! You ain't gonna win any races with these things on, unless the entire race course is ice… in which case you might have enough of an advantage… dunno… But the point is , they ain't FAST, they are steady.
Anyway, figured I pass along this DIY, since Jaimie requested it.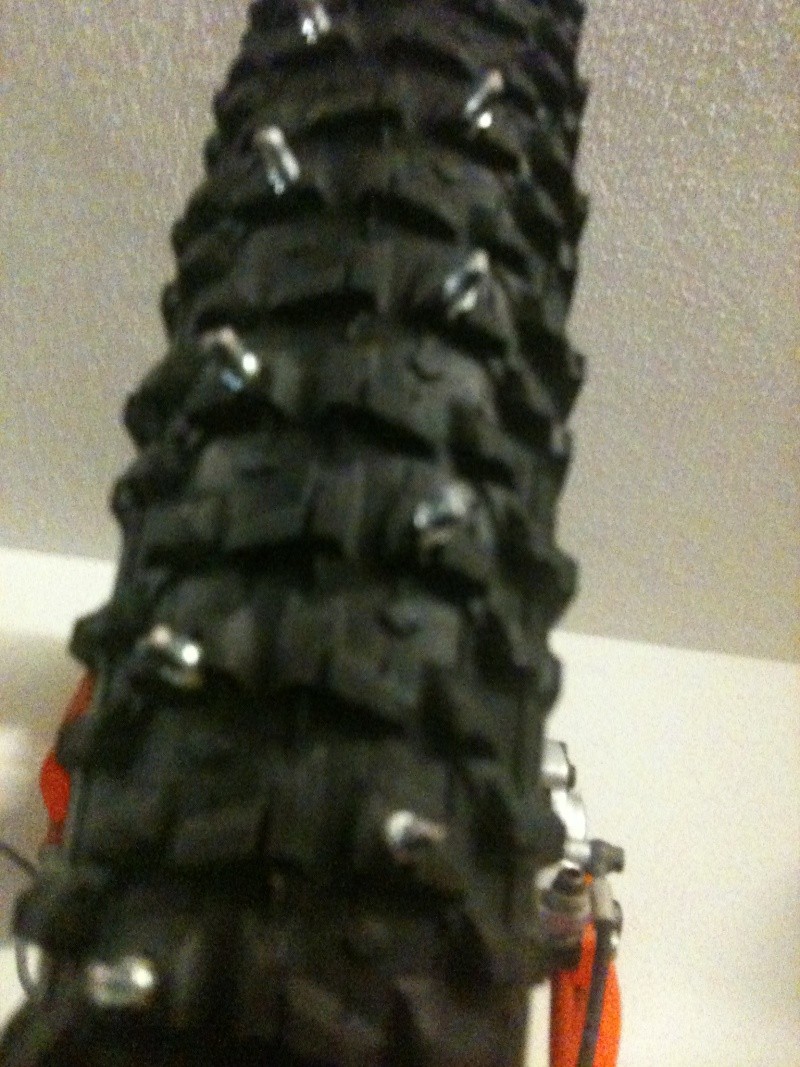 Rear Tire pattern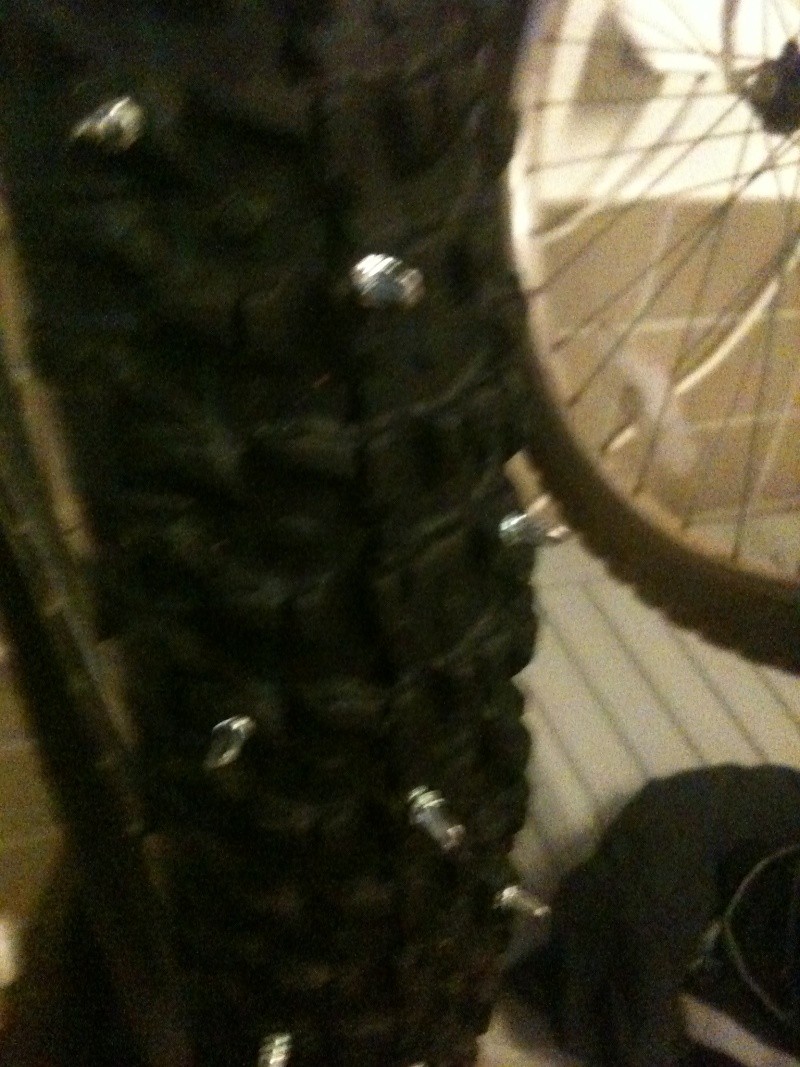 Front Tire Pattern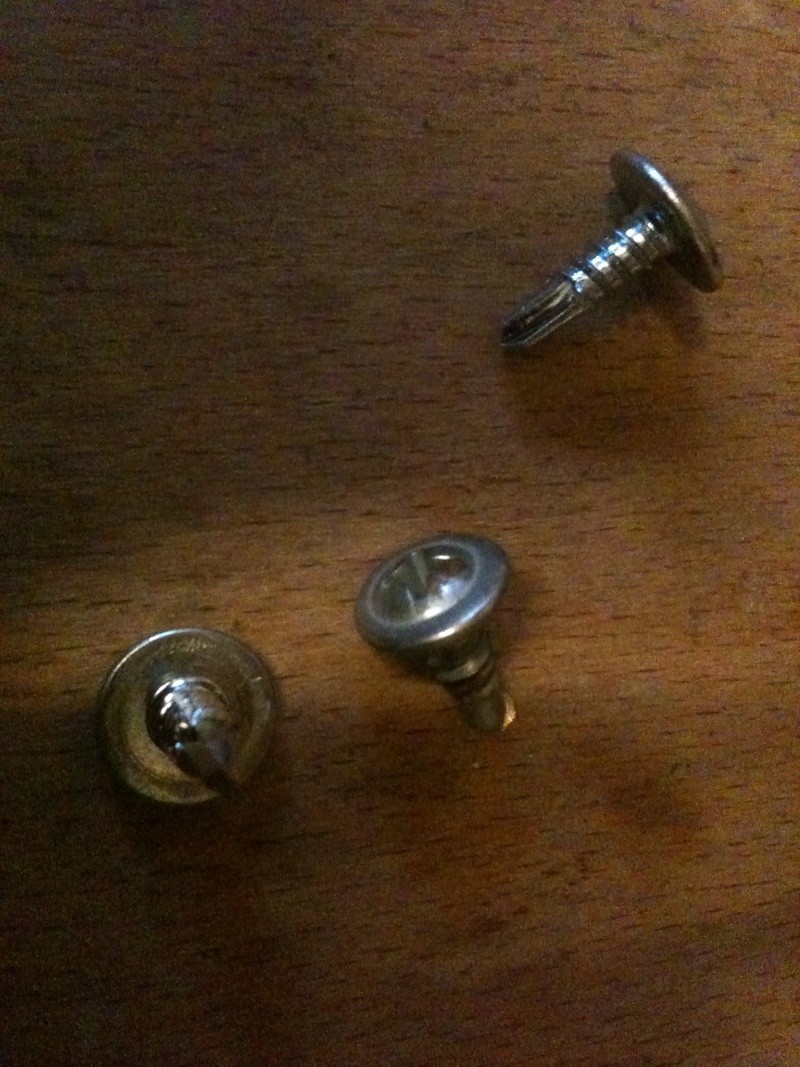 Screws that I used

Jonesy

Officer





Posts

: 1007


Join date

: 2010-11-18



Dude those are wicked. I've seen that done the other way around, with the heads of the screws exposed, but never with the points. You convinced me to leave the singlespeed on the rack and ride the geared though, so the wife's tires are going to be sacrificed this weekend! (Just have to replace them by the time she gets back from downrange...)

jvanhuis




Posts

: 117


Join date

: 2010-11-22


Age

: 49



Ilove it! I'll give it a shot if I have some time! Great pic to. I have a pair of runing shoes that this was done to but with much smaller screws. So sick of sliden aound and hittin the ice,snow. Again awsome Jonesy!

krocko1




Posts

: 248


Join date

: 2010-11-24



How about Mr Tuffy tire liners designed to keep thorns out of your tube. I would think they'd be perfect for this application. Thicker/more rigid than what you're using plus they're already cut to size as they're designed to go between the tube and the tire. Come in several different widths.

Just an idea.

fjaws




Posts

: 23


Join date

: 2010-11-28



fjaws wrote:How about Mr Tuffy tire liners designed to keep thorns out of your tube. I would think they'd be perfect for this application. Thicker/more rigid than what you're using plus they're already cut to size as they're designed to go between the tube and the tire. Come in several different widths.

Just an idea.
Not familiar with them,but sounds like it might work

Jonesy

Officer





Posts

: 1007


Join date

: 2010-11-18



Mr Tuffy's rock. Had to use them in New Mexico to keep the Goathead Thorns at bay. They will work great for what you are doing.

spookyload




Posts

: 1167


Join date

: 2010-11-21


Age

: 50


Location

: Vogelweh, Germany




fjaws




Posts

: 23


Join date

: 2010-11-28



Or just by one of these! 42a Super Tacky. You can climb walls of ice.
Wet Scream

Gmoney




Posts

: 155


Join date

: 2010-11-21





Similar topics
---
Permissions in this forum:
You
cannot
reply to topics in this forum